It's no secret Thailand boasts some of the most pristine beaches in the world. One lesser-known Thai destination and certainly one of the best-unspoiled destinations that should top your Thai beach bucket list is beautiful Railay Beach.
Situated 11km from Krabi Town in Southern Thailand, Railay Beach is a dreamy gem only accessible by boat. Although Railay is not an island, it sure does feel like one! The reason for this is that even though Railay Beach forms part of the mainland, it is surrounded by massive towering limestone mountains. Completely cutting it off from land access.
Railay Beach is the perfect destination for travelers looking to immerse themselves in a paradise setting and an excellent add-on to any Krabi itinerary. The village is home to some of the dreamiest beaches in Krabi and rugged limestone cliffs towering out from the land and sea. Besides the breathtaking scenery, there are many great things to do in Railay Beach too. From swimming in the warm waters of the Andaman Sea and exploring the peninsula to rock climbing and island hopping to a few of the romantic islands nearby.
If you're looking for paradise-like beaches and super chilled vibes, there's no better place to unwind than Railay Beach, Thailand!
In this Railay Bay travel guide, I'll cover all of Railay's best bits to help you plan the perfect Railay Beach itinerary. Besides all the terrific things to do in Railay Beach, I've also included tons of handy tips and tricks to help you travel Railay Beach stress-free. I'll cover everything from how to get to Railay Beach and where to stay in Railay Beach to safety tips for solo female travelers and what to pack for Railay Beach.
In a rush? Pin the Best Things to do in Railay Beach, Thailand for later.
Disclaimer: This post probably contains affiliate links. When you make a purchase through one of these links, I might receive a tiny commission at no extra cost to you. As an Amazon Affiliate I earn from qualifying purchases.
Railay Beach Itinerary Pre-Travel Tips
Before you set off on an epic trip, there are a few things you need to know before visiting Thailand, and more specifically, Railay Beach. If you'd like to skip these Railay Beach travel tips and go straight to the top things to do in Railay Beach, you can do so by navigating your way around the table of contents.
Thailand Visa Requirements
Depending on where you come from in our beautiful world, you may need a visa to enter Thailand. Thailand allows travelers from 64 countries to enter visa-free, up to a maximum of 30 days. Passport holders from Taiwan, China, and India, will, however, need to apply for a visa upon arrival.
While you'll probably be among the 64 nationalities with visa exemption, it's always a good idea to check visa requirements online first. I also recommend monitoring your passport as you'll need at least six months' validity for entry.
When to visit Railay Beach & Southern Thailand
Unlike Northern Thailand, Southern Thailand only has two seasons – the dry season and the rainy season.
The best time to visit Railay Beach and the rest of Southern Thailand is during the dry season (Nov – March). Expect pleasant temperatures and sunny days, but know that it can be a bit humid.
Since this is also the peak season, hotel prices are at a premium and rooms fill up quickly. If you like to have your trip all planned out, book at least a few months in advance for the most reasonable prices. More carefree travelers could stick it out by booking free cancellation rooms and waiting for last-minute deals.
During the monsoon season (Apr-Oct), Thailand as a whole is a very cheap destination to visit. Expect cooler temperatures, but keep in mind that the weather can be unpredictable with frequent downpours. However, you could easily find a room at a posh resort at 3-star hotel rates.
Oh, and just a tip, April is the hottest month in Thailand, so it's best to avoid traveling here then. I've visited Thailand a few times, and only once did I make the mistake of visiting during April. It was scorching and extremely muggy. So much so that I got sunstroke. Therefore, if you can, try to avoid spending April in Thailand.
How to get to Railay Beach
The nearest airport to Railay Beach is Krabi International Airport, roughly 40 minutes away. The easiest way to get to Railay Beach from the airport is to book a direct transfer with your hotel. Work on +/- 1200 Baht, but it's best to check prices directly with your hotel.
If that is not an option for you, it is still relatively straightforward to get to Railay Beach on your own. As mentioned before, although Railay is technically part of the mainland, no roads lead here. Therefore, the only way to get to Railay Beach is by boat. There are two piers in Railay. Choosing the right one ultimately depends on where you are coming from and where you are staying in Railay Beach. Let's have a look at the two access points.
Railay West
From Krabi International Airport, grab a private transfer (600 Baht) or take the shuttle bus (150 Baht) directly from the airport to Ao Nang Beach. (Grab a discounted private transfer here). For more tips, also read this guide on how to get to Ao Nang from the airport.
Once you've made it to Ao Nang, you'll need to take a long-tail boat from Ao Nang Boat Service Club near Ao Nang Beach to Railay West. Tickets go for 100 Baht, and the ride only takes about 10 minutes.
The only problem with getting to Railay Beach from Ao Nang is that you'll need to wait for eight people to fill up the boat before the boatmen depart. Of course, if you are traveling during peak season or in a big group, you won't necessarily have to wait that long. But during the low season or if you are a solo traveler, it could very well be a problem.
If you're traveling with luggage, disembarking at Railay West may also be problematic, as you'll get dropped right on the beach.
Railay East
If you're staying on the eastern side of the island or traveling with heavy luggage, it's best to arrive at the East Railay Pier. To do so, you'll need to catch a long-tail boat at Ao Nammao Pier.
The easiest way to get to Ao Nam Mao pier is via private transfer directly from the airport (600 Baht). If you're already in Ao Nang, simply hop in a tuk-tuk or songthaew to get to Ao Nam Moa pier. It's roughly a 15-minute ride and costs +/- 300 Baht. Long-tail boat tickets cost 100 Baht per person and leave every hour starting at 8:30. The last long-tail boat to Railay East leaves at 18:30.
How to get around Railay Beach
Since there are no roads in Railay, the only way to get around is on foot. Several walkways connect Railay East and Railay West. While Phra Nang Beach is accessed from the sidewalk running along Railay East to the southern tip of the peninsula. (See map below.)
Railay Beach Map
In this Railay itinerary, you'll have a chance to discover Thailand's pristine beaches, visit the islands nearby, try some adventure activities, eat authentic Thai food, watch epic sunsets and of course relax at the beach. Here's a map of Railay Beach to help you better understand the lay of the land.
Pin these things to do in Railay Beach for later.
The Best Things to do in Railay Beach
To be honest, most people come to Railay Beach to relax; the vibe is much more laidback than Ao Nang, Phuket, and Koh Phi Phi. So, if you're looking for a destination with lots to do, Railay Beach might not be the place for you. However, if you're looking for a place to unwind, you won't find a better destination in Thailand to do so.
Below you'll find all the BEST things to do in Railay Beach to craft an epic Railay Beach itinerary. Since I've included all the best things to do in Railay Beach, feel free to tailor this Railay Bay itinerary to your own needs and traveling style.
Relax at the beach
As one of Thailand's most iconic natural landmarks, it's not surprising that relaxing on the beach is the top thing to do in Railay Beach! There are three beaches in Railay, namely West Railay Beach, Phra Nang Beach, and East Railay Beach. The main beach areas in Railay, however, are Phra Nang Beach and West Railay Beach. Both offer magnificent white sandy beaches and the inviting turquoise waters of the Andaman Sea, bordered by towering limestone cliffs.
East Railay Beach doesn't offer any swimming opportunities. But, during low tide, you can get a closer look at the mangroves and perhaps even spot an Asian Water Monitor. These huge lizards are not as dangerous as Komodo dragons, but it's best to keep a safe distance. They are quite scary looking!
Pro Tip: Make sure you head to the beach before 10 am or after 2 pm to skip the crowds. Lots of people visit Railay on day trips to the islands nearby, so it can get quite busy.
Chill at a Reggae Bar
There are quite a few Rastafarians in Railay, and you'll find the majority of reggae-loving bars along the walking street. Although there are a few bars in Railay East, the vibe is definitely better on the western side. Even if you don't fancy ordering something off their 'happy menu,' it's still lovely to kick back and listen to the chilled out sounds of Bob Marley and other famous reggae artists.
Must-visit reggae bars in Railay Beach include Bamboo Bar (Railay West) and Skunk Bar (Railay East).
Catch the sunset at Railay West
One of the best things to do in Railay Beach is watching the magical sunset. For the best sunset viewing spot, be sure to head to Railway West. If you don't fancy going to one of the beachfront restaurants, simply grab a drink beforehand and find a spot on the beach to enjoy the changing skies.
Pro Tip: It is best to come well before sunset (at least an hour before) to ensure the best spot! During peak season, it can get quite crowded quickly!
Explore the caves
There are several caves you can explore on Railay Beach. None of them will take more than 15 minutes to explore. And, it's an excellent way to quickly see some of the large stalactites and stalagmite formations up close.
Diamond Cave
Diamond Cave, or Tham Pranangnai, is a short 5-minute stroll from the Railay East Pier. Keep an eye out for the sneaky monkeys that swing from tree to tree or lazily lounge around! Although they are adorable, please do not feed them. Not only is it harmful to their health, but you can also get 1000 Baht fine.
When you get there, you'll need to pay a 100 Baht entry fee. The cave is part of the Nopparatthara Marine National Park and therefore a protected area. Diamond Cave is set in a massive limestone cliff, and you can see many kinds of rock formations within. The narrow entrance leads you into the cave on a wooden walkway. As you wander along, you can hear bats and the soft sound of water dripping from above.
Top Tips: Diamond Cave opens at 8 am and closes at 5 pm. Chances are low that it will be crowded at any particular time of day. But, if you are claustrophobic, it's best to come early.
Princess Cave
On Phra Nang Beach, you'll find a peculiar site. And, also one of the more touristy places in Railay Beach – the Princess Cave. The cave itself is not the most remarkable point of interest here. Instead, it's what lies within that draws the crowds.
Once you enter the cave, you can't miss the colorful shrine consisting of huge phalluses. Legend has it that fishers left offerings to the mythical sea princess before going out to sea and believed it would bring them prosperity and protect them from the dangers at sea. Today, however, there seems to be a bit of a mixed connotation to these colossal wooden phallic symbols, as some believe they help with fertility. Honestly, it's a bit of a weird place, but check it out for yourself!
Grab a sundowner at Tew Lay Bar
Tew Lay Bar is the perfect spot to kick back and relax for a few hours. And, I'm pretty sure once you've popped by here, you wouldn't want to leave!
Besides the stunning views over the Andaman sea, mangroves below, and limestone cliffs in the distance, it's a great place to enjoy laidback vibes and a cocktail or two. What really sets Tew Lay Bar apart from other pubs in Railay, however, is its unique seating area. With a large bamboo deck full of scattered lounge cushions, decks suspended in trees above the Andaman Sea, and several hammocks, it guarantees a laidback atmosphere.
Furthermore, with an extensive cocktail menu, including anything from passion fruit mojito's to Mai Tai's – there's something for everyone. The cocktails are a bit pricy, with prices starting at 180 Baht. Similarly to elsewhere in Railay Beach, expect to pay 100 Baht or more for a beer.
Tew Lay Bar also serves a tasty variety of Thai dishes, western food, and different snacks. Prices are a bit steep, so expect to pay well over 250 Baht for a pizza, while salads start at 100 Baht.
Pro Tips: To get to Tew Lay Bar, you'll need to follow the walkway on Railay East, past Last Bar. It's about a 15-minute walk from the Railay East Pier, but the sublime views and excellent cocktails will be more than enough reward. Tew Lay Bar is one of the most famous sunset spots in Railay, so coming a few hours before the sun sets is highly encouraged. This way, you'll get to soak up the vibes and pick the perfect sunset viewing spot! Oh, and make sure you bring hand sanitizer or wet wipes! I didn't see a washbasin in the bathroom.
Take an island hopping tour from Railay Beach
The great thing about visiting Railay is its proximity to some of Thailand's most beautiful islands. There are so many stunning islands near Krabi scattered in the Andaman Sea that it might be hard picking just one. Luckily, there are lots of island hopping trips from Railay Beach to consider! And, most stop by more than one island.
Some of the most popular island-hopping trips from Railay Beach include the Krabi 4 Islands tour and Hong Island. Joining an island excursion is a fun way to experience the islands stress-free since you won't need to worry about logistics, lunch, drinking water, and even snorkeling gear. Both these island hopping tours are available by long-tail boat or speedboat. This Hong Island Tour and this Krabi 4 Island Tour are both mind-blowing and highly recommended!
Alternatively, if you prefer exploring the islands at your own pace, it is possible to rent a private long-tail boat to take you around. Prices generally start at 2500 Baht per boat for up to six people.
Pro Tips: Before you decide which islands to visit or even which island hopping tour to join, be sure to check the weather forecast. In good weather, visiting the nearby islands is undoubtedly one of the best things to do in Railay Beach. But know that you're probably not going to have a great time when it's cloudy. You should probably also know that boat rides are dependent on weather conditions.
Hike to the Railay Viewpoint
Railay Viewpoint is the best place to get a bird's-eye view of the entire Railay Bay and Tonsai Beach in the distance. Although it is one of the best things to do in Railay Beach, you should know that this hike is not for the faint-hearted. It's not a long trek, but it is a tough one! You'll need to scramble up a frighteningly steep cliff using nothing but your strength to hoist yourself up while hanging on to a thick piece of rope. Make sure you wear proper footwear (i.e., no flip flops). Also, I really don't recommend you attempt this hike after it has rained.
Pro Tips: To get to the trailhead, follow the walkway along Railay East towards Phra Nang Beach. A short stroll further, past the small shop, you can't miss the crowds gawking at thrill-seekers scrambling up this vertigo-inducing climb.
Swim at the Railay secret lagoon
After you've enjoyed the pristine panoramic views at the Railay Viewpoint, more adventure awaits! Not too far from here, you'll find Railway's very own secret lagoon. Railay Lagoon is a beautiful azure-colored pool surrounded by high rising cliffs.
Getting to this secluded lagoon is a challenging and perilous trek. There is literally no other way to get here than to make your way down the wide opening at the top of the cliffs. From there, you'll need to climb down the often muddy and slippery cliffside. There are a couple of ropes to help you along the way, but you really do need to proceed with caution. Similar to the Railay Viewpoint hike, it is a hazardous climb, and I wouldn't recommend it to anyone that is afraid of heights or not fit enough!
Therefore, before you attempt climbing down to the hidden lagoon, make sure you have enough stamina and courage to do it! Daunting as it may sound, remember you'll still have to climb up again! It's a dangerous climb that can take up to 30 minutes depending on your fitness level, strength, and guts, of course! If you are a more adventurous traveler, this might just be right up your alley, but please remember to be very careful.
Once you get to the bottom of the lagoon, you'll be greeted with mind-blowing views over the glittering blue water, lush cliffside jungle, and perhaps even spot a few monkeys!
Try rock climbing
Railay is the perfect place to do adventure activities in Thailand and a firm favorite among thrill seekers. One of the most revered outdoor activities to do in Railay Beach is undoubtedly rock climbing. There are several climbing routes in Railay suitable for a wide range of climbers from beginners to experts.
Near Walking Street, there are a handful of schools where you can join a myriad of rock climbing courses ranging in time and difficulty level. These packages include all the equipment and a guide.
Pro climbers, on the other hand, can also easily rent the necessary gear without a guide at one of the shops.
Rent a kayak
On Railay West Beach, right in front of the Walking Street, you'll find several boatmen renting out kayaks.
Kayaking is a fun thing to do in Railay and a popular pastime among visitors and locals alike. Added to that, it's a great way to discover the area and get a closer look at the limestone cliffs towering out from the ocean.
Pro Tip: It's best to go at high tide, but remember to be careful!
Join a cooking class
The Railay Cooking Class on Walking Street, is an excellent step-by-step activity for avid home cooks or those looking to learn a new skill. Classes are generally small and will only take a few hours of your time. Besides obviously making delicious Thai treats from scratch, you'll also be able to impress your friends and family back home with your new cooking skills.
Some of the dishes I made during my cooking class included spicy, sour soup, spring rolls, green curry, Pad Thai, and mango sticky rice. There are quite a few options to choose from, so it ultimately depends on what Thai dishes you'd like to cook. Whatever you decide to make, remember to come hungry!
Where to stay in Railay Beach
For such a small destination, there is surprisingly a good selection of accommodation options on Railay Beach. Prices are, however, more expensive than elsewhere in Thailand, and staying in Railay Beach doesn't necessarily come cheap!
That said, there is an excellent mix of hotels, resorts, and hostels in Railey catering to all kinds of budgets and travelers.
If you're looking for direct beach access and a super luxurious stay, stay at Phra Nang Beach, whereas Railay West has a good selection of high-end resorts and cheaper stays right in the middle of all the buzz. Alternatively, for a more laid back vibe away from most of the crowds, Railay East is your best bet.
Since Railay Bay is small, you can easily walk from east to west in about 20 minutes. So, deciding where to stay in Railay Beach will ultimately depend on what kind of experience you're after. Here are my top picks for the best places to stay in Railay Beach.
Visiting Railay on a day trip and planning to stay in Ao Nang? Read my detailed guides on the best places to stay in Ao Nang and what to do in Ao Nang.
High-End: Rayavadee Hotel
Rayavadee Hotel is one of the most exceptional luxury accommodation options in Railay Beach. The resort faces the Andaman ocean and offers direct access to Phra Nang Beach. If you're looking for a genuinely luxurious experience or perhaps want to treat that special someone in your life, this hotel will certainly earn you some brownie points.
The resort features a spa, swimming pool, shops, bars, and four onsite restaurants.
Mid-range: Railay Great View
During my visit to Railay Beach, I stayed at Railay Great View Resort, and I can't recommend it more! And, just in case you're wondering, the resort's name truly encapsulates the essence of this fantastic hotel!
Since it's the very last hotel on the eastern side (just past Tew Lay Bar), it's completely secluded and incredibly peaceful. With more than 30 cottages, built on a steep hill and surrounded by lush vegetation, it is the ideal place for anyone looking to enjoy a slice of paradise. What's more, the private beach and dreamy infinity pool are perfect places to chill out with a book and cocktail in hand.
Pro Tips: Before you book a room here, though, you should know that it's best to book a direct transfer from the airport with the hotel for a stress-free journey. Also, since the resort is built on a hillside, there are many steps up and down. If you have mobility issues, it might not be a good idea to stay here.
Budget: Blanco Hideout Hostel
There aren't too many budget options in Railay. So, if you are traveling on a shoestring, you may want to consider staying on Tonsai Beach instead. Tonsai Beach is a short stroll from Railay West, but only accessible during low tide.
If this is not an option for you, the only hostel worth considering is Blanco Hideout Railay Youth Hostel, on Railay East. The hostel features a swimming pool, restaurant, and two bars. There are several dorm rooms and cheap bungalows from which to choose, too. If you're looking for wild parties with the backpacker crowd, this is just the place for you!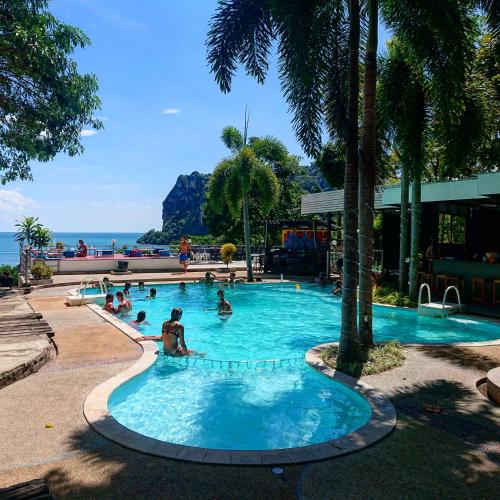 Is Railay Beach safe for solo female travelers?
Absolutely yes! Railay is exceptionally safe for solo female travelers. That, however, doesn't mean you should be oblivious just because you are in a paradise-like setting. Use the same caution you would anywhere else in our beautiful world. Also, remember to leave your valuables at your hotel and always book a room with a safety deposit box.
Most bars stay open late, so use common sense when deciding how late you want to stay out. If you plan on partying the night away, it may be a good idea to carry a small flashlight with you.
It's safe to leave your belongings on the beach unattended if you want to swim. But, don't leave your stuff lying around. Instead, put your cash, phone, and other valuables into your bag and zip it closed. It's also good to know that some beaches get extremely busy. You may want to steer clear of the crowds if you are worried about keeping your stuff safe. Alternatively, investing in a cellphone waterproof case is a great compact alternative to keep your phone and cash on you.
ALSO READ: The BEST Destinations in Asia for Solo Travelers
What to pack for Railay Beach
If you're planning a visit to Railay Beach, you're probably wondering what to pack for Thailand.
Since Railay has some of the most unspoiled beaches in Thailand, you're likely to spend most of your time on the beach. Railay Beach has a very relaxed vibe, so there's no need to dress up. Instead, opt for light, comfortable clothes, and pack whatever you would usually pack for any beach holiday. T's, shorts, flip flops, and swimsuits are the norm here. Here are some great tips on what to wear in Thailand to help you plan the perfect wardrobe.
Packing list for Railay & Thailand
Besides keeping your clothes simple, there are a few things I highly recommend you bring along to make the most of your Railay trip.
Where to eat in Railay Beach
There's no shortage of excellent places to eat in Railay Beach – from high-end beachfront restaurants and budget-friendly restaurants to stalls and even long-tail 'food boats.'
During the day, the long-tail boats on Phra Nang Beach dish up a variety of cheap, tasty treats, from burgers and Pad Thai to pancakes and grilled corn-on-the-cob. Most prices start at 80 Baht. Oh and, definitely try the fruit shakes! They are divine and the perfect refreshment on a hot, sunny day.
Along Walking Street, you'll find countless restaurants and food vendors to try out. The majority serve Thai cuisine, but there is a good mix of Western and Indian food too. Prices vary from place to place. So, it might be a good idea to browse the menus displayed in front of each restaurant first. Although I'm not vegan, I did spot a little vegan vendor offering a variety of tasty, quick vegan eats.
There are also plenty of restaurants along the walkway in Railay East. But, as most of them are resorts expect higher prices.
Top Tip: Like most other countries in Asia, the tap water in Thailand is not drinkable.
How much does it cost to travel Railay Beach
If you're wondering if Railay Beach is an expensive destination to add to your Thailand bucket list, you don't need to be too worried. Technically Railay is more costly than Ao Nang and Krabi, but staying here a few days won't necessarily break the bank. On average, I spent about 400 Baht a day in Railay Beach for food and drinks. Here is a closer look at what things cost in Railay Beach.
Sleep
Accommodation in Railay is more expensive than elsewhere in Thailand. Although most places cater to mid-range and luxury travelers, it is possible to find a bed in a dorm for as little as 500 Baht a night, while you can expect to pay closer to 2500 Baht or more for something a bit more upscale. (See my top picks on where to stay in Railay Beach above).
Oh, and make sure you book a room with breakfast included!
Food
If you are traveling on a shoestring, you'll need to choose where to eat in Railay carefully. The food especially can be a bit expensive depending on where you eat.
Along Walking Street, there's a good selection of cheap vendors selling quick eats like burgers, Pad Thai, roti, and other Thai classics. Prices generally start at 100 Baht for these snacks.
Various restaurants also display menu's at their entrances where you could have a look at prices first. Both Flame Tree Restaurant and Skunk Bar & Grill have decent food at reasonable prices. Depending on what you order, expect to pay anything from 100 Baht to 300 Baht or more per meal.
Further afield on Phra Nang Beach, you'll also find several food boats dishing up all kinds of delicious snacks, local Thai classics, and different drinks like beer and fruit shakes to quench your thirst. Note though that these boats are only on the beach during the day, and prices generally start at 70 Baht.
Drinks
Expect to pay up to 35 Baht for a small bottle of water and roughly the same amount for a can of cola. Fruit shakes generally start at 50 Baht along the Walking Street, while you'll pay 70 Baht on Phra Nang Beach.
Those looking for something a little stronger should know that the booze in Railay is a tad overpriced. Generally, cocktails start at 180 Baht at most bars, while most resorts charge around 200 Baht for a cocktail. As for beer, expect to pay about 100 Baht for a small bottle of Singha, Chang, or Leo.
Travel Tip: Make sure you go during happy hour as most places offer good discounts or 2-for-1 specials. Happy hour is usually from 4 pm to 9 pm.
Railay Beach, Thailand, packs the perfect mix of things to do and plenty of opportunities to soak up the relaxed vibes. Have you visited Railay Beach yet? What tips or suggestions do you have for fellow travelers planning a Railay Beach trip? Feel free to share your top tips, best places to stay, and things to do in Railay Beach below!
Did you enjoy this post? Maybe your friends will too. Share The Best Things to do in Railay Beach, Thailand with them here.